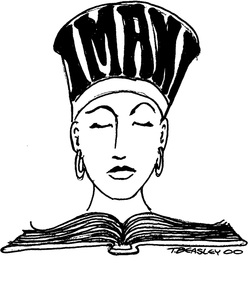 Welcome to our updated website! It has been over a year since we updated, but the book club is still going strong celebrating 17 years of bonding over African-American literature.
General Information
The Imani Book Club in Montgomery, Alabama began in 1999. It was established by Cashana Seals, an avid reader, to bring together a diverse group of African-American women who enjoyed reading and would bond spiritually. From 10 newsletters sent out to announce the Imani Book Club's birth, 14 members joined the book club. With motivation and support from one another , the book club, which is celebrating 16 years together, has a membership of 13 active, strong African-American women.
Contact information:
imanivoices@aol.com
Snail mail: P. O. Box 240063
Montgomery, AL 36124
All rights reserved. The reproduction, or utilization of any contents of this website in whole or in part in any form is forbidden without the prior written permission of Cashana Seals/Imani Book Club, Montgomery, Alabama.
The Imani Book Club © 2001-2016
---
Editor's Note...Peaceful December

I probably say every year around this time how fast the year has gone. One minute we are in the New Year, the next we are in the live version of hell after the election on November 8th. I don't know about you, but I am emotionally and physically depleted and I want to cruise through December in peace.

I am feeling blessed and thankful on one hand, then I look at a news article and my stomach starts to boil. Usually, I am annoyed about whatever the situation maybe then something comes over me and I realize I am covered and will be alright. So putting thoughts into action, I am Letting Go and Letting God!

Continued on Editor's Note

December's Reading Assignment

Second House From the Corner by Sadeqa Johnson


Felicia Lyons, a ­­­­­­­ stressed out stay-at-home mom, struggles to sprint ahead of the demands of motherhood while her husband spends long days at the office. Felicia taps, utters mantra, and breathes her way through most situations, but on some days, like when the children won't stop screaming her name or arguing over toy trucks and pretzel sticks, she wonders what it would be like to get in her car and drive away.

Then one evening the telephone rings, and in a split second the harried mother's innocent fantasy becomes a hellish reality. The call pulls her back into a life she'd rather forget. Felicia hasn't been completely honest about her upbringing, and her deception forces her return to the Philadelphia of her childhood, where she must confront the family demons and long buried secrets she thought she had left behind.
From a phenomenal fresh voice in fiction, comes the compelling story of what happens when the dream falls apart. Sadeqa Johnson's Second House from the Corner is an unforgettable tale of love, loss, rediscovery, and the growing pains of marriage.






.





Next Book Club Meeting: December 17, 2016